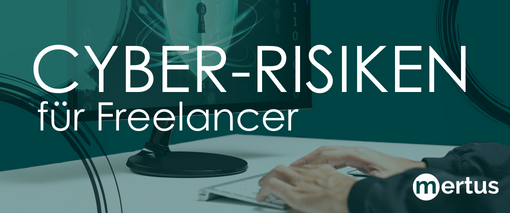 Cyber risks for freelancers – threats and measures
Since the start of the Corona pandemic at the latest, cybercriminals have been experiencing a new peak phase. Hardly a week goes by without reports of hacking with all its unpleasant consequences – from financial damage and loss of reputation to business interruption that threatens the very existence of the company. This no longer only affects large corporations, but also small, medium-sized and individual companies. That's why we'll tell you in this article not only what the current risks are, but also what measures you can take to protect your business.
Encrypted data, leaked documents, virus-infected networks: each of these scenarios is likely to make entrepreneurs break out in a cold sweat. For more and more of them, this nightmare is becoming reality – because criminals have been tapping into new, lucrative targets for some time now: Freelancers.
This is also reflected in the claims that regularly land on the desks of the insurance professionals at our cooperation partner exali. Time and again, criminals deprive our policyholders of data or money. While no two claims are the same, we quickly realized which concrete measures can help protect your business. We'll tell you what they are:
Cyber risks – hacking as the biggest threat
Your business is exposed to numerous risks, but according to a study by Allianz Insurance, 44 percent of the 2,650 risk managers surveyed perceive cyberattacks as the greatest threat in 2022. Extortion in particular, as in ransomware attacks in which malicious software encrypts data in order to demand a ransom, triggers concern among experts.
Larger companies have been defining strategies for their own cyber security for quite some time and implement them every day. Freelancers and smaller companies, on the other hand, often don't know how to arm themselves against the growing threat or – much more fatally – even consider cyber risks in their business to be completely irrelevant. This is a fallacy that, in the worst case, can make or break your business! Neither horrendous expenditures nor many employees are necessary to protect your company against ransomware, DDoS attacks, social engineering and the like.
Cybersecurity – the basics for freelancers
Every company, regardless of size or industry, should take some basic steps regarding maintenance, IT setup and IT security.
Hardware and software for professional work
Free solutions seem tempting at first, because every penny counts, especially when you're just starting out on your own. However, if your business falls victim to a cyberattack, the financial damage is multiplied and the cost savings at the beginning are quickly gone.
These additional comparable or even identical technical resources are not required for trouble-free operation. In the worst case, however, you can use them to prevent failures or at least reduce their extent. In addition, you can be up and running again quickly after a cyber incident.
For data backup, it's best to use external hard drives that are completely separate from the rest of your network. This prevents unauthorized access and also protects your data from harmful influences such as water, fire or lightning.
Firewalls and virus scanners
Keep both up to date and apply updates regularly – then you have an excellent tool to detect and prevent unauthorized data traffic.
Cyber risks are also subject to trends. Criminals are constantly coming up with new schemes that companies have to adapt to. So keep up to date with the latest threats and train your team with information and small tests.
New territory: the Internet?
The Internet is part of our everyday lives – for freelancers in particular, an online presence is indispensable, and collaboration with customers largely takes place digitally. This shift of work to the digital world brings with it many advantages. But in order to enjoy them without worries, you should be able to move safely online.
Most self-employed people use different accounts on completely different platforms. You should protect them with different, secure passwords. These are at least 8 characters long and usually contain upper and lower case letters, special characters and numbers. If you want to be on the safe side, change your access data every six to eight weeks. If you find it too much trouble to coordinate so many passwords, a password manager will help you. You want to learn more? The Mertus cooperation partner exali.de has written a comprehensive article with many more tips: 5 tips for good password management.
Part of being a freelancer is working on the road. But here, too, there are a few pitfalls lurking. You should avoid unprotected public networks without a login at all costs – you never know who else is surfing on the same network! Sending files is of course taboo in such networks. Rather surf on encrypted sites. The best way to do this is with a VPN connection (Virtual Private Network).
When assessing your IT security, don't forget your Internet connection at home or in the office! A router with a WPA2 key completes the measures already taken.
What happens in an emergency?
The fact is that there is no complete protection against attacks. But you can also take precautions for the worst case, a successful hack. That way, you don't have to face the financial and reputational consequences all by yourself. Insurance solutions for cyber risks help you to bear the costs caused by a cyber attack and support you in resuming your business operations. You can recognize a good insurance solution by the following points:
24 h emergency assistance
Support in restoring your systems and ensuring continued operation – assumption of costs included
Not only does your day-to-day operations suffer from a data leak, but so does your reputation. That's why the benefits of a good cyber insurance policy also include the financial expenses for PR.
Sometimes all efforts are of no use and data can no longer be decrypted after a ransomware attack. In that case, the payment of the ransom is also part of a cyber insurance policy.
If a cyberattack makes it impossible for you to meet your obligations to customers, there is a threat of lost sales and contractual penalties. These costs should also be covered by the insurance.
If you cause cyber damage to third parties, for example to a customer, due to professional negligence, the professional liability insurances through exali can protect you. In addition, you are also covered for claims for damages, fines and warnings.
If you also want to protect your own business against cyber damage, the additional module "Data protection & cyber own-damage cover" could be the right one for you. Not only are you protected against hacker attacks, but you're also not alone in the event of business interruptions or ransom demands. If you do not (yet) have a professional liability insurance through exali, or if you want to explicitly protect yourself against cyber risks, you can configure a customized Cyber Insurance with exali.
Cybersecurity is part of every business
Cybersecurity is not just a matter for large corporations, but should be part of every corporate strategy. Base your business on the two pillars of prevention and protection. That way, you'll be fully prepared for cyberattacks and can focus on your work without worrying.
Discount on your insurance premium through Mertus
Via this link and with the discount code "mertus10" you get a special discount at our cooperation partner. We have compiled all the information for you hier. If you have any questions or comments, please feel free to contact the Mertus team or the experts at exali directly.