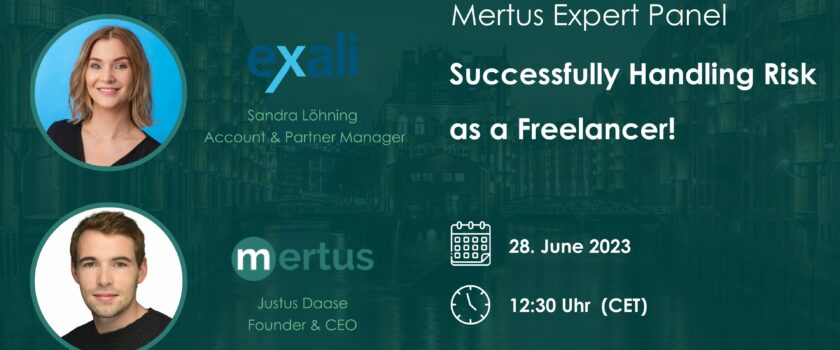 Mertus Expert Panel: Successfully Handling Risk as a Freelancer!
With our guest expert Sandra Löhning, Account Manager & Partner Manager Europe at exali AG, we discuss about different risks related to working as a Freelancer with a focus on the IT sector:
Which areas of risk should I be aware of as a freelancer❓
What are some real life damage cases❓
What can I do to mitigate those risks❓
What options are there for insurance❓
We are streaming live on YouTube on 28 June 2023 at 12:30 (CET).
The expert panel will be moderated by Justus Daase, Founder & CEO of Mertus. With Mertus (www.mertus-consulting.com), he is committed to a contracting service that benefits freelancers and companies alike.
Mertus organises the expert panel in cooperation with exali AG. exali AG operates the insurance portal www.exali.com and offers insurance solutions tailored to the specific needs of service providers and freelancers. The focus of exali is on digital risk insurance for freelancers in the IT, creative and consulting sectors.
Further information and links:
Discount code for insurance with Exali vía Mertus: Register with the code "MertusCOM" at https://www.exali.com.
We are looking forward to the event! Please feel free to share and invite your network!