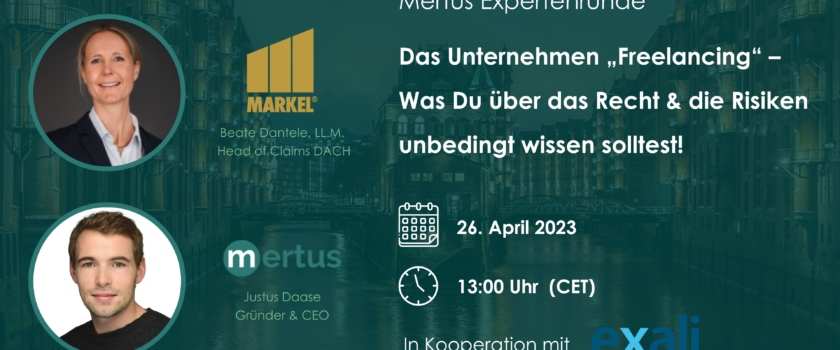 Invitation to the next Mertus expert round: "Freelancing" – What you should know about the law & the risks!
The event:
The company "Freelancing" – What you should know about the law and the risks! – This is the topic of our digital and interactive live Mertus Expertenrunde on 26/04/2023 at 13:00 (CET). Among other things, we will exchange ideas on:
✔️ The choice of the right legal form
✔️ The differences between types of contracts
✔️ The typical damage risks & possible precautionary measures.
You can also ask your question directly to the expert! Simply contact Mertus in advance or ask the question in the interactive chat during the event.
The expert:
As a guest we are pleased to welcome the expert Beate Dantele, LL.M. As Head of Claims DACH at Markel Insurance SE and a lawyer, she brings extensive experience, practical examples and valuable insights for legal issues around freelancing.
The expert panel will be moderated by Justus Daase, co-founder of Mertus. He is committed to working with Mertus to create a staffing service that benefits freelancers and businesses alike.
Mertus is organizing the expert panel in cooperation with exali AG. exali AG operates the insurance portal www.exali.de and offers insurance solutions tailored to the specific needs of service providers and freelancers. The focus of exali is on insurances of digital risks for freelancers in the IT, creative and consulting sector. Through Mertus you get a special discount on the insurance premium in the first year. All information can be found here.
Event registration
The event is free and open to all interested parties. More information and updates about the event can be found in the  LinkedIn Event. Click here to go directly to the Live Stream on YouTube.