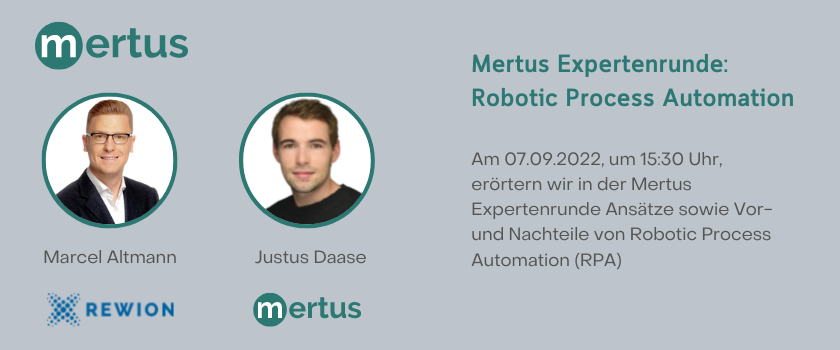 Mertus Expert Panel: Robotic Process Automation (RPA)
Robotic Process Automation
One of the currently predominant buzzwords in the context of digitization is "Robotic Process Automation" or "RPA" for short. The automation of repetitive activities is intended to increase the productivity of an organization and save costs in the process.
But what exactly does RPA mean, which approaches can be pursued and what are the concrete advantages and disadvantages? We will discuss these and many other questions live with our guest Marcel Altmann from REWION GmbH in the Mertus experts panel on 07.09.2022 at 15:30.
Click here to go directly to the event on YouTube!
🙋 You have a specific question about RPA? Feel free to contact us in advance of the event. We will try to include your questions in the event and answer them. Alternatively, you can address your question to the panel of experts in a live chat.
👉 The expert panel: Marcel Altmann is Manager Automation & Digitization at REWION GmbH. He brings extensive experience from numerous RPA projects with a wide range of customers. The expert panel will be moderated by Hans-Justus Daase (Co-Founder & Managing Director of Mertus). Mertus is an IT contracting service provider specializing in IT freelancers that benefits freelancers and companies alike.
We look forward to your participation and an interesting exchange!